Starting a business is one of the most nerve-wracking, yet exciting things you can do. You have the chance to do something you're truly passionate about and make money doing it. It can be challenging though, which is why many people look for advice. Check out our 7 successful tips to get your business started the right way.
Make Sure you're Passionate
Before you do anything, be sure that you're passionate about whatever your prospective business is. You'll be putting a lot of time and energy into it if you want it to be successful. No, you don't have to necessarily love accounting or doing the numbers, but you do need to love the business enough to be willing to sacrifice time and money to get it started.
If you're thinking that it's not worth the effort, it's not a business worth pursuing.
The Right Business
Along with making sure that you're passionate, make sure your business is viable too. You need to be able to fulfill a need that people have and to do it well. To have a profitable business, it's important to make sure that there's really a market out there for it.
Talk to people, who aren't family or friends, about whether they'd want your product, what they'd pay, and what other needs they might have.
A good way to think about potential products is coming up with potential solutions. Consider what your idea can solve in this world and what problems are currently not being addressed. You'll be able to respond better to people if you know what type of problems your potential customers need to be solved.
Just Get Planning
Many people want to become entrepreneurs, but there are so many things that scare people away: money, fears of failing, time involved, and so on. If you're confident in your business, don't let this worry stop you.
Think about the practical way to address your worries and if there's a solution to get you started. No one really has all the answers when they get started, but you can get started on research.
Making a plan is a good way to see your goals and potential success. You don't necessarily need something elaborate, but you still should have a plan with your goal and how you plan on getting there. Change that plan as you go and learn more about the business. It'll help you remain focused over time and put off procrastinating just because you're afraid.
The Right Time
You may want to begin your business when you're still employed. Instead of worrying about making money right away with your business, you'll still have a paycheck coming in from somewhere else. This gives you some money to invest in the business and to cover your monthly living expenses until you begin seeing profits.
Early Clients
As you're getting started, don't quit your job or expand your business without clients lined up already. If you have people that are already in your network of contacts and who are interested in whatever service or product that you're selling, it will be much easier to get your business going.
A great way to get started is to get on social media platforms. Get a LinkedIn account to spread the word about your business and find some future leads. Launch your Facebook page and set everything up. People will want to buy from a business that looks and is legitimate, so it's never too soon to begin marketing.
Listen to Others
This might seem obvious, but all too often when people get an idea in their mind, they plow on ahead instead of taking a moment to get advice from others. Talk to everyone you know, and listen to experts too. Write down everything and begin to learn as you develop your plans.
When you speak to people about your business, check to see their interest and ask for their opinion. While your idea may be amazing, don't underestimate the power of expert advice and ordinary opinions.
Bounce ideas off of your family and friends, and remember: you don't have to do this alone. You may even want to try and find a mentor in your industry so you can learn from both their successes and mistakes.
Counting Costs
As you begin, and as part of your planning, consider how much you're paying for everything. Factor in every business expense, like how much it will cost to launch and operate your business, what marketing will cost, what the rent is, and every other cost you can think of.
Once you've thought of everything, come up with the best number you can. Then, quadruple it. This may seem extreme, but there are many unexpected costs that crop up in any business, and you don't want to be caught off guard when some bill you didn't anticipate suddenly comes in.
When it comes to counting costs, don't forget about your own personal costs either. Make sure that you have enough money to cover your rent, food, and so on, and use this information to help begin planning your budget.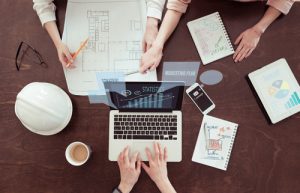 Keep Going
If you run into a problem or a mistake, let it go and move on. Learn from your errors without getting caught up in what's already done, and acknowledge that, yes, you will run into some problems. Don't get demoralised, and acknowledge that even if you don't have any money, you're still getting somewhere.
Speak Up
Don't be shy about being loud and proud about your business. You can't be worried about what people will think, and instead need to make sure you tell everyone and anyone about what you're doing. If you find yourself in a situation where you can do some marketing, step out of your comfort zone and get started.
Conclusion
Starting a business is difficult. There's a lot to think about, not to mention the anxiety many people experience when they think about the finances and potential pitfalls. Take a deep breath and keep these tips in mind though. With these tips on how to begin your successful business, you can begin your business off on the right foot.